Kostenloser Online-Editor von Gutscheinen, Diplomen und anderen Unterlagen
A convenient solution for creating and sending award documents. Open the online editor right away or find out more about its features.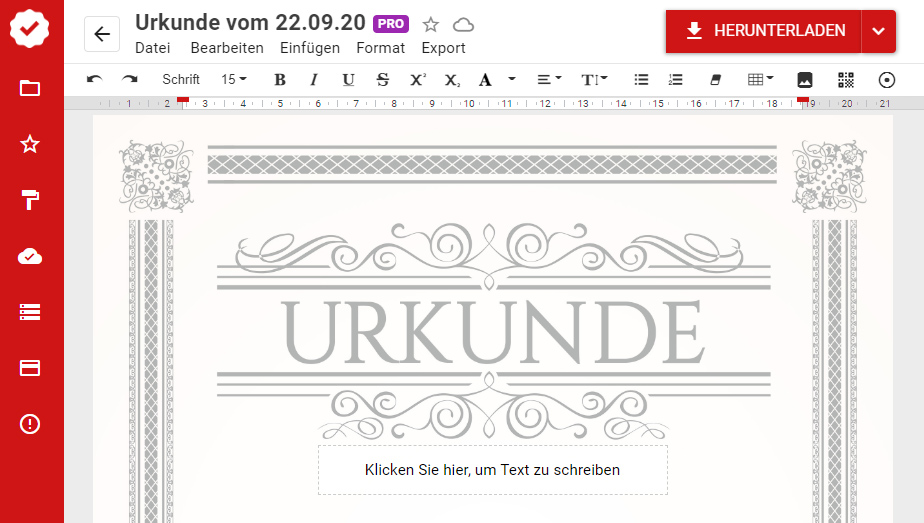 Online-Editor
Use the editor right in your browser. No need to download or install anything.
Web application
Using Google Chrome or Edge? Pin DiMaker to your desktop like a web application.
DiMaker ist ein Online-Designer von Gutscheinen, Diplomen, Zertifikaten, Urkunden und Dankurkunden.
Sie müssen nicht mehr nach den gedruckten Dokumentenvorlagen in den Schreibwarengeschäften suchen und dann nötige Information darauf irgendwie abdrucken. Erstellen Sie die Dokumente in DiMaker! Falls Sie den Drucker griffbereit haben - senden Sie die Dokumente direkt aus dem Editor an den Drucker, oder speichern Sie das Dokument, um ihn im Büro, zu Hause oder im nächstliegenden Fotozentrum auszudrucken.
Funktionen
edit
Angenehmer Texteditor
Creating diplomas or certificates in our editor is as easy as writing a text in MS Word.
Erfahren Sie mehr
cloud_download
Downloading and sending
You can download the finished file, as well as send it to print, to a smartphone or Telegram via e-mail.

Insert signature or seal
You can insert your signature or a company seal. If you do not have them electronically, we can edit the scan for you by removing the white background. Erfahren Sie mehr

Use as much as you need
Use the editor with no limit. You can create as many files as you need.
font_download
Many fonts
We've added fifty different fonts to make your documents look attractive.
Create by list
Создавайте сразу несколько файлов с общим шаблоном и текстом и разными персональными данными. Нужно лишь заполнить или скопировать таблицу с данными.
Вы можете заполнить таблицу в редакторе, скопировать данные из другого табличного редактора, например Microsoft Exel или OpenOffice Calc, или загрузить из Google Таблиц.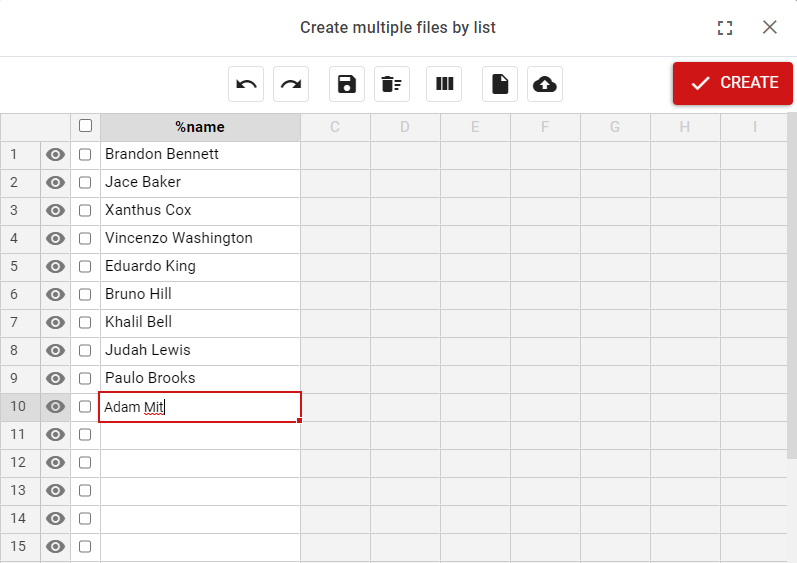 Eine reiche Auswahl von Vorlagen
In unserer Sammlung gibt es viele verschiedene Vorlagen auf Deutsch: mit Wappenzeichen, offizielle, feierliche, schulische, sportliche und für Kinder.